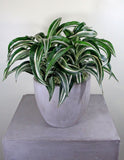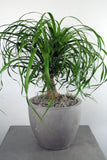 Green Plant in a Light Gray Cement Container
Our green plants will liven up any space.  Beautiful to look at and they even help purify the air you breath.  Our plants come in many varieties & shades of green and colors.  These plants are a bit larger and would look good as a floor plant but could work on a plant stand as well. Great for funerals, new home, desk plant, company gift. This container is approximately 10.5" wide and 9" tall.  Plant chosen will vary depending on availability.
Delivery to Brown County Wisconsin and select surrounding areas only. No delivery on Sunday unless for a funeral. Pick up at our Design Center Monday thru Friday from 9:00 a.m. until 5:00 p.m. and Saturday 10:00 a.m. until 1:00 p.m. 931 Main Street, Green Bay WI.
* Green plants will be chosen from the selection that we have available so varieties may vary from what is shown in the photos.