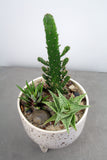 Succulent & Cacti Garden in Reid Container
Our succulent & cacti gardens feature a variety of sun loving plants and stones in beautiful containers.  We use different succulents and/or cacti to create these gorgeous designs.  Three small succulents planted in our Reid container then topped with sand, natural stones and crushed glass. The Reid container is approximately 6.5" across and 7" tall.
Delivery to Brown County Wisconsin and select surrounding areas only. No delivery on Sunday except for funeral orders. Pick up at our Design Center Monday thru Friday from 9:00 a.m. until 5:00 p.m. and Saturday 10:00 a.m. until 1:00 p.m. 931 Main Street, Green Bay WI.