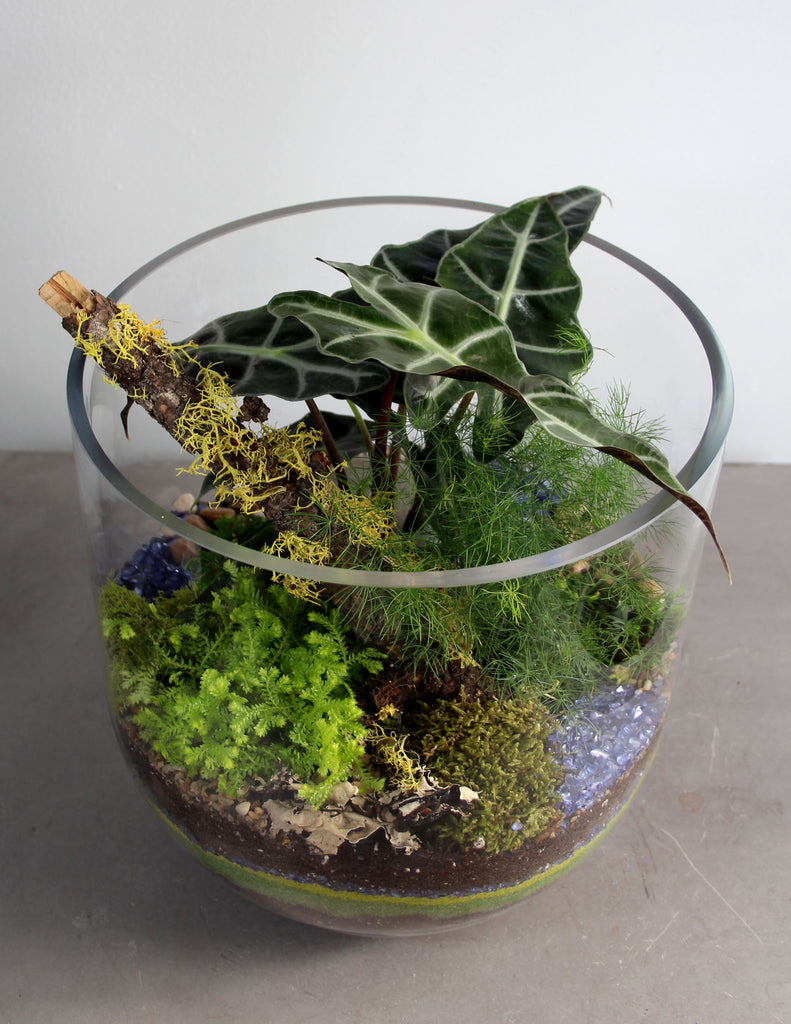 Large Fern Terrarium
Our fern terrarium gardens will feature a tall fern or similar plant in care, two small ferns or club moss, stones and preserved mosses and sticks to create a beautiful terrarium garden. We may use another variety or combinations of plants depending on availability. The glass bowl we will use for this terrarium is approximately 9.5" across and 9.5" tall.  Layers of sand and stone will cover the bottom as well.  Our first choice will be green & natural but please let us know in the comments when ordering if you'd like a different color.  The one pictured has purple added too as an accent to the plant used and may vary with the plant chosen. Please let us know your preferences in the comments when ordering.
Delivery to Brown County Wisconsin and select surrounding areas only. No delivery on Sunday except for funeral orders. Pick up at our Design Center Monday thru Friday from 9:00 a.m. until 5:00 p.m. and Saturday 10:00 a.m. until 1:00 p.m. 931 Main Street, Green Bay WI.
Be sure to include your desired pick up or delivery date and what you would like the card to read when at check out.  If you would like your order delivered please also include the delivery address and phone number in the field provided when at check out.
* Plants will be chosen from the selection that we have available so varieties and plant combinations may vary from what is shown in the photos.  We will keep the feel pictured in mind when creating the terrarium design but each garden will end up being one of a kind.